Dubai is one of the greatest places to live with your family as it offers an excellent standard of modern lifestyle, world-class shopping & restaurants, and a variety of entertainment options. The city is also famous for its iconic landmarks, such as the Burj Khalifa (World's tallest building), Palm Jumeirah (World's biggest man-made island), Burj Al Arab (The seven-star hotel), and the The Dubai Mall (Worlds biggest shopping destination).
Here are some of the best places to live in Dubai with family
Arabian Ranches
Arabian Ranches is a master-planned and family-friendly community that offers multiple types of properties, such as luxurious villas, townhouses, and the lavish mansions.  The gated community has a range of high-standard amenities such as swimming pools, tennis courts, parks, and playgrounds, as well as a community center with retail outlets, cafes, and restaurants. The community also has its own school, the Jumeirah English Speaking School, which is one of the best-rated schools in Dubai.
The villas and townhouses in Arabian Ranches come in a variety of styles, ranging from traditional Arabic to contemporary architect designs, and offer spacious living areas with a private pool & landscaped gardens. The community is designed to provide a peaceful and tranquil environment surrounded by the landscaped parks and greenery that create a serene and relaxing atmosphere. The community's location is close to the major highways that will connect you to other major landmarks in Dubai.
Damac Hills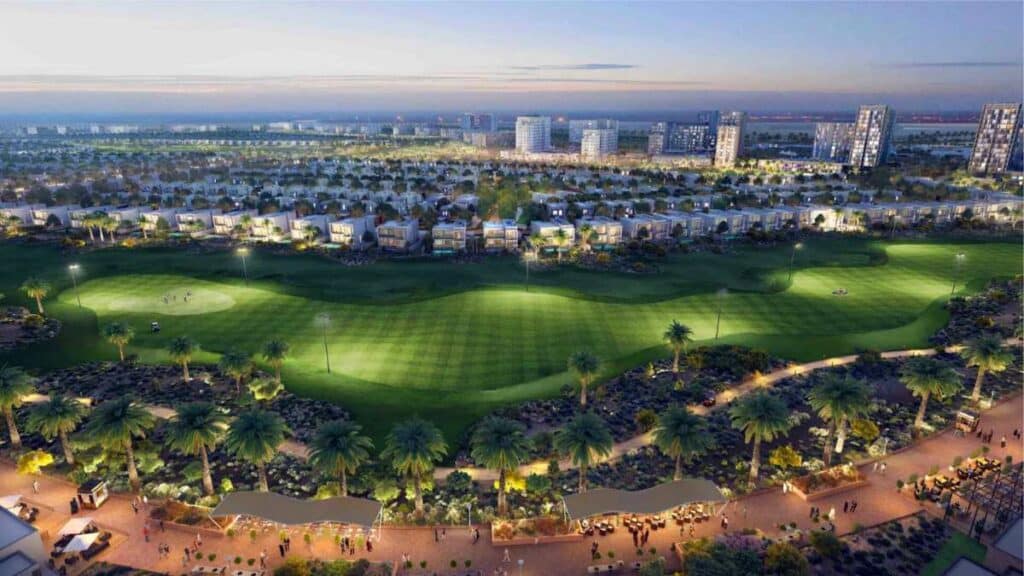 Damac Hills, a luxurious master-planned community developed by Damac Properties. The golf community offers a wide range of high-end properties, including villas, townhouses, and modern apartments surrounding by the stunning 18-hole championship golf course. Properties in Damac Hills offer a wide range of world-class amenities and facilities, including the cafes, a luxury spa, a fitness center, and sports facilities such as tennis courts, football pitches, and basketball courts.
The most famous attraction of Damac Hills is a championship golf course, Trump International Golf Club designed by world-renowned golfer Tiger Woods in collaboration with Gil Hanse. The course offers a challenging and rewarding golfing experience, with stunning views of the surrounding landscape. The residents can find the fine dining restaurants in Damac Hills including supermarket, pharmacy, and medical center, providing residents with all the necessary conveniences.
With its luxurious properties, world-class amenities, and convenient location, Damac Hills is a sought-after community for those looking for a modern, family-friendly lifestyle in Dubai.
Mirdif
Mirdif is a suburban residential area located in the eastern part of the city and one of the most popular neighborhoods for families due to its family-friendly environment, excellent schools, and convenient location close to DXB (Dubai International Airport). The community is known for its beautiful parks and green spaces, which provide residents with a peaceful and relaxing environment. Mirdif is a well-established community that offers a range of properties, such as villas, townhouses, and contemporary apartments. The community has its own large shopping center, known as Mirdif City Center where residents can enjoy their shopping along with fine dining options.
Emirates Hills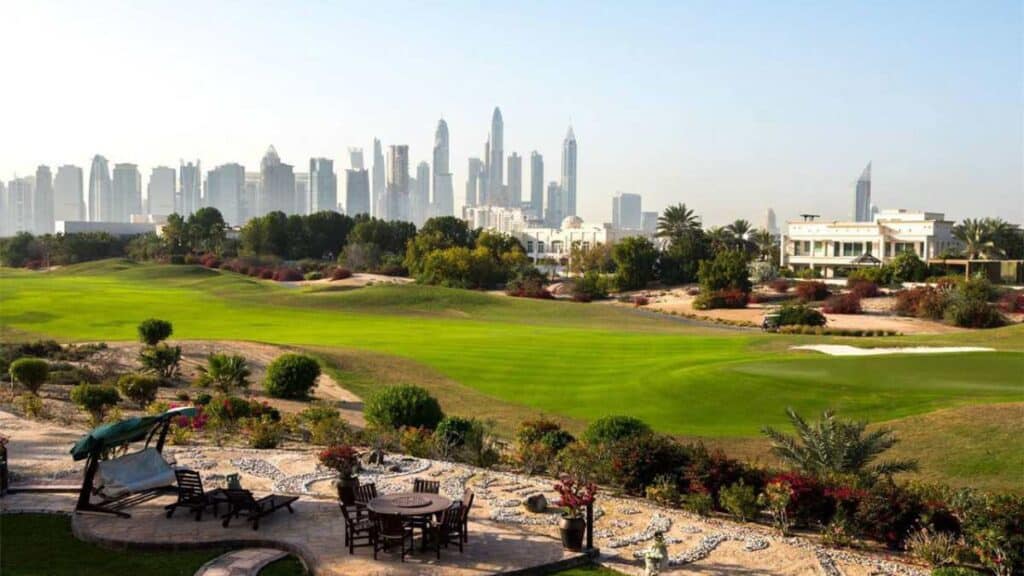 Emirates Hills, known as "Beverly Hills" developed by one of the world's most famous developers, Emaar Properties. Properties in Emirates Hills provide an ultra-luxurious standard of living featuring world-class amenities such as big private pools, private elevators, private cinemas, landscaped gardens, and high-end finishes. The community is gated and provides 24-hour security, offering residents a safe and secure environment.
Emirates Hills is situated around the Montgomerie Golf Course, which is one of the most prestigious golf courses in Dubai. In addition, residents can also enjoy other outdoor activities such as cycling, jogging, and walking in the beautifully landscaped parks and gardens.
Palm Jumeirah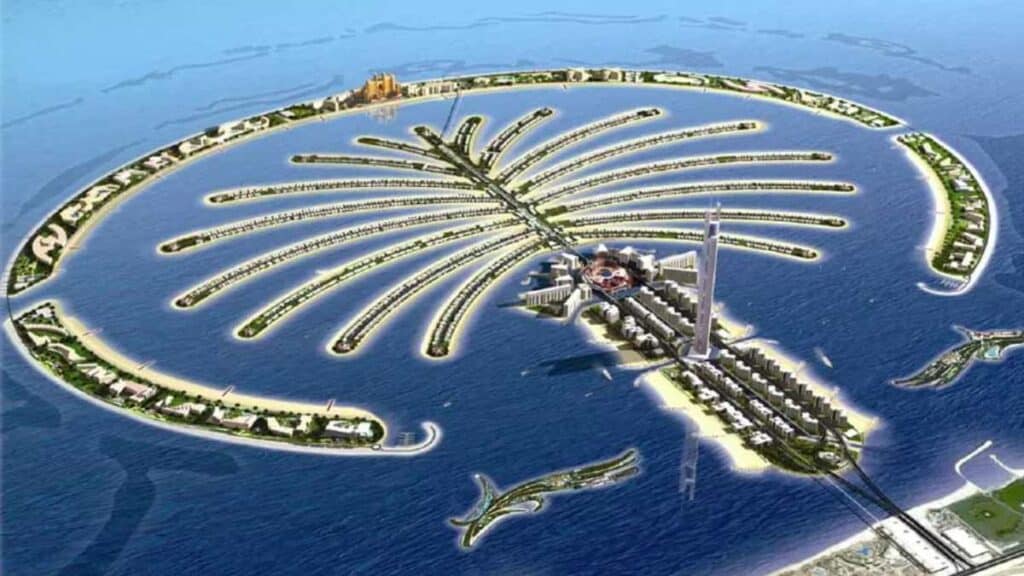 Palm Jumeirah is an iconic man-made island located off the coast of Dubai. The community is one of the most prestigious and sought-after residential areas in the city, well-known for its luxurious villas, high-end apartments, and stunning beachfront properties. Palm Jumeirah is shaped like a palm tree and is home to some of the most luxurious hotels, restaurants, and entertainment options. The island offers a range of world-class amenities, including private beaches, marinas, and a variety of water sports such as jet skiing, parasailing, and scuba diving.
Jumeirah Golf Estate
Jumeirah Golf Estates is a luxurious residential community situated around two championship golf courses, the community offers a range of high-end properties, including villas, townhouses, and apartments. JGE is known for its world-class golf facilities, with both the Earth and Fire courses designed by golfing legends Greg Norman and Vijay Singh.
The golf community offers a wide range of amenities and facilities, including a variety of restaurants and cafes, a luxury spa, and a fitness center. The community also has its own supermarket, medical center, and stunning butterfly garden providing residents with all the necessary conveniences. 
The Springs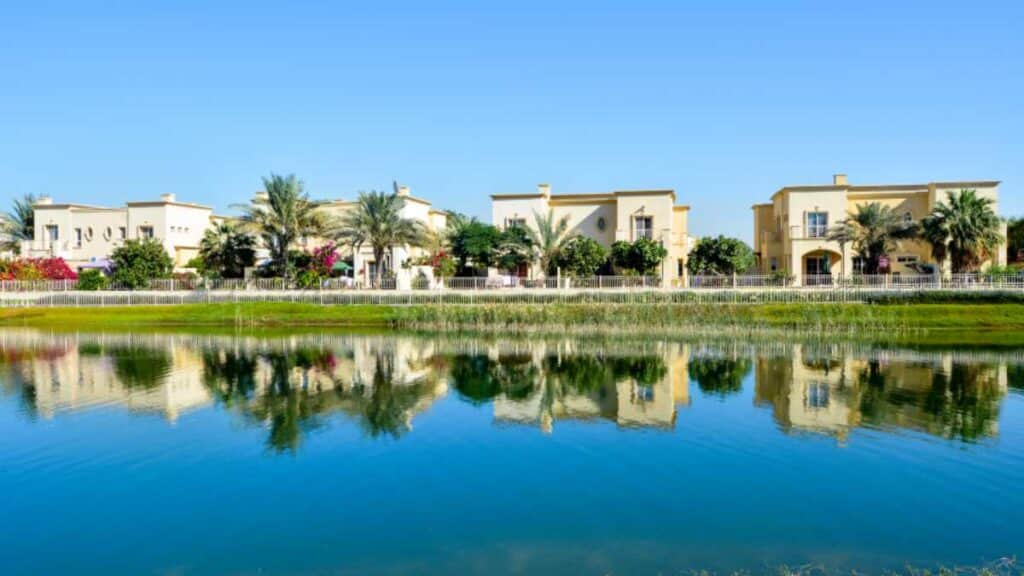 Another community on the list developed by Emaar, The Spring features several parks and playgrounds, making it an ideal place for families with children. This gated community also offers a wide range of high-quality villas and townhouses surrounded by lush greenery and scenic lakes. The convenient location of this family-friendly community provides easy access to other major highways that give residents easy access to Dubai Internet City, Dubai Media City, Al Barsha, and the Palm Jumeirah.
Umm Suqeim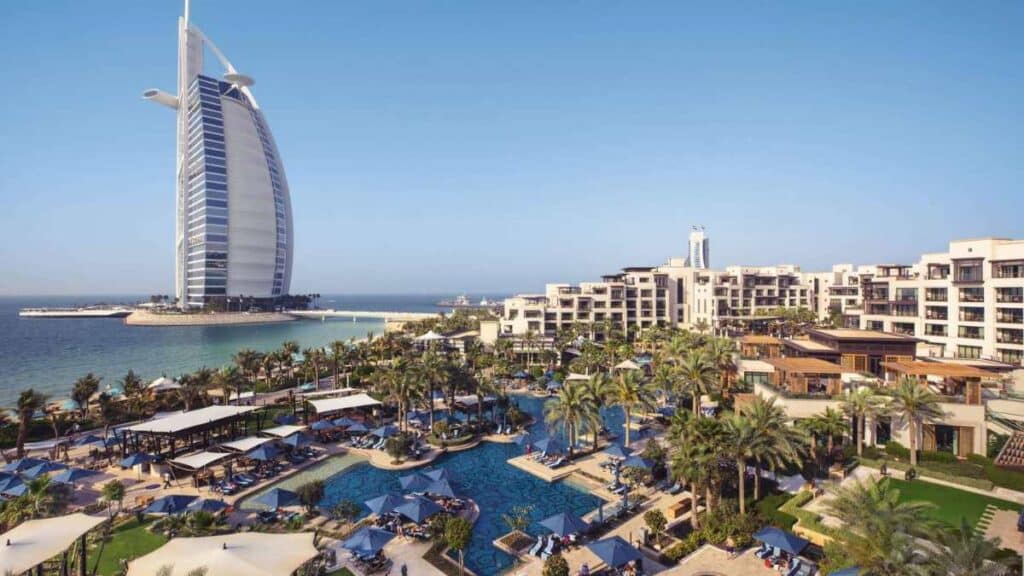 Umm Suqeim is one of the newly developed beachfront communities and is famous for its luxurious properties and high-end facilities. The community is located on the corner of beautiful beaches such as Jumeirah and Sunset Beach. These beaches offer a range of water activities, including swimming, surfing, and paddle boarding, making it an ideal place for beach lovers.
The area is also home to several luxury hotels, including the famous Burj Al Arab, providing residents and visitors with world-class accommodation and facilities. The community offers a range of amenities and facilities, including several schools, parks, and shopping malls. It is also close to major landmarks, City Walk, Downtown Dubai, Business Bay, DIFC (Dubai International Financial Centre), and Dubai Canal are just a 10-minute drive from Umm Suqeim.
Socialbuzzness features articles on and about technology, business, lifestyle, and health. Socialbuzzness covers all kinds of news, including entertainment, technology, business, and finance.