Tattoos are the ultimate form of self-expression. If we see a lot of men getting tattoos, there might be any reason for which they are getting a tattoo, like in a memory of loved ones, for aesthetic looks, for motivating themselves, for expressing their inner thoughts, etc. Any of the above-mentioned reasons can be the reason for a man to get inked.  
If you are getting inked for the first time, then I'd advise you to get your first tattoo from someone who is in this field for a long period and has experience of 8-10 years. Because this will reduce the chances of a tattoo artist making a mistake and you will get the best results which you were hoping.
Nowadays, if we see there are new tattoo artists coming into this industry and they are bringing a lot of new designs with them, but the chances of them making an error with your tattoo is also high because of less experience, so you might want to avoid going to a tattoo artist with less experience. If you visit a tattoo studio in Jaipur, Mumbai, Delhi etc., they will show you their portfolio from which a person can choose the design.
Selecting a design for a tattoo is a very time-consuming process because there are so many designs that it might confuse the person who is getting a tattoo about which designs, he should get. If you are also someone who is looking for a tattoo design in 2023 than do not worry. Here is the list of some tattoo designs which you can try in 2023 without any regret.
Spiritual or Religious Tattoo Design
If you are someone who is very spiritual and religious, then this tattoo design is for you. In this world, everyone follows different religions, so you can get a tattoo according to your religious belief or faith. For example: getting a tattoo of the Cross or the face of Jesus Christ is relevant to Christians, getting a tattoo of Trishul (Mahadev's Weapon), flute and peacock feather, an Om sign or the face of Shiva, Krishna is relevant to Hinduism, and the tattoo of Buddha is significant to Buddhist. The Religious tattoo can be a way to keep your god always with you. Tattoo design like this can often motivate and encourage you to do something in life. You have a purpose and God is always there with you like a guiding force to help you find your way in life. The best placement of this tattoo can be on your biceps, shoulder or chest.
Dragon Tattoo Design
This tattoo design is a perfect choice for men who want to get a tattoo which requires a lot more detail and has a unique touch to it. The dragons are also very symbolic. They symbolize wisdom, fearlessness, and power. These mythical creatures have also been mentioned in European and Eastern Asian Mythologies. The dragon can be associated with the fire and water elements. Also, it depends on the perspective of an individual on how he sees these creatures, because they can be perceived as both good and bad. If you are someone who is planning to get this design tattooed, there are a lot of elements you need to keep in mind, like the size of the tattoo and the colors of the design. The dragon tattoo design looks best when the size of this tattoo is big. This tattoo design will look best on your back, thighs or shoulder.
Geometric Tattoo Design
If you are someone who is looking for a simple and minimalist tattoo design, then I would advise you to go with Geometric tattoo design. This tattoo design consists of geometric shapes, like square, triangle, circle, cuboid and simple lines. This tattoo design looks very aesthetic and cool on a person's body. You have seen people with a small triangle on their wrist or hand which looks very cool. I personally love the geometric tattoo design because you can make any shape with this design, like, geometric-designed Wolf, Elephant, Rose, Lotus etc. look so cool. If you want, you can also get a large-sized geometric tattoo, but it'll require an artist with great experience and steady hands.
Anime Tattoo design
In this 21st century, there are a lot of fans of anime, and the majority of them are men who are 18+ years of age. Tattoos are meant to be expressive and many people get tattoos to show the world about their hobbies, favorite series or anime. There are a lot of anime series which a lot of men follow, like Naruto, One Punch Man, Dragon Ball-Z, One Piece etc. If you love any of these anime series, then you can get inked with a realistic tattoo of your favorite character from the series. The visuals of the anime are so much better that it might confuse you about which image you want to get tattooed. The anime-style tattoos are very distinct, and can make for an eye-catching tattoo design. Many people get a tattoo of Naruto's main character, Naruto Uzamaki, tattooed on their body. You can also combine the design to tell a story better. This tattoo design will look so much better when it is made in large pieces. The placement which might suit your designs is your hand or shoulder.
Arrow Tattoo Design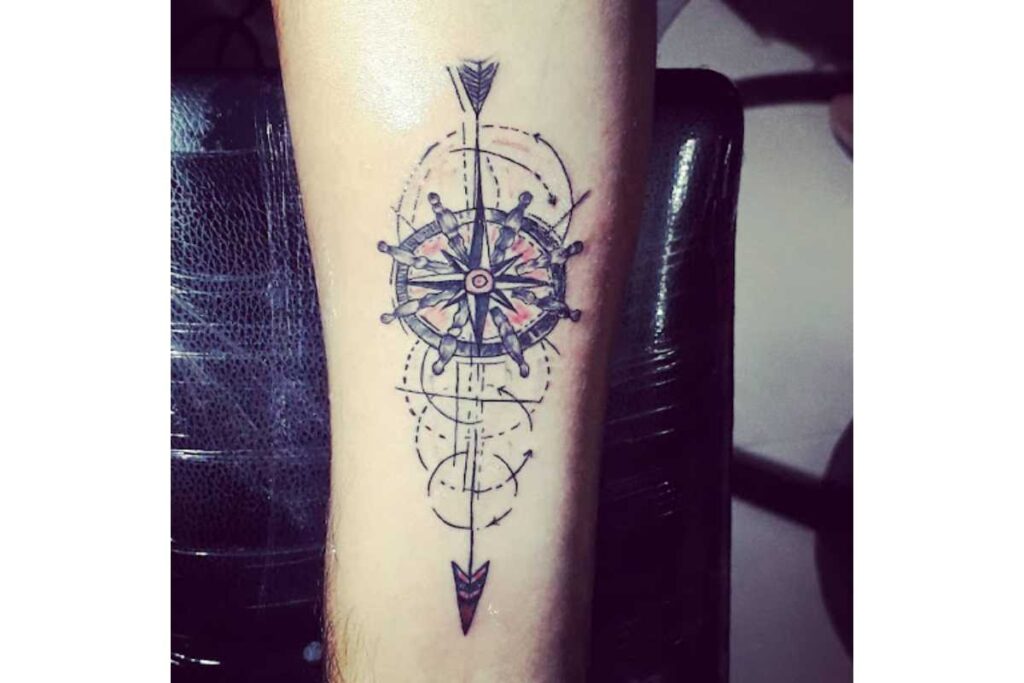 Arrow tattoo design is one of the best choices of tattoo for men as it looks very aesthetically pleasing and very cool on a man's body. Not only does it look cool, but this design also has a very deep meaning which inspires you to choose the direction of your life. Also, in the early days, arrows were also used as a weapon for hunting by many tribal people and in war they were also used by warriors as protection. With this design you can choose between a lot of options. If you are getting inked for the first time, then you might probably want to go for a smaller tattoo design. But if you are sure, then you can get this design in a large size with a lot more detailing also. The placement of this design could be on your forearm or wrist.
Final Words
So, these are some of the Tattoo designs you would want to try in 2023. There are a lot of designs out there on the market, you can even choose from your artist's portfolio. The above-mentioned designs are something which you want to try for an aesthetic and cool look. It all depends on person to person. Finally, my advice to you would be to think it through before finalizing a design because this design is going to be with you all your life.
Socialbuzzness features articles on and about technology, business, lifestyle, and health. Socialbuzzness covers all kinds of news, including entertainment, technology, business, and finance.